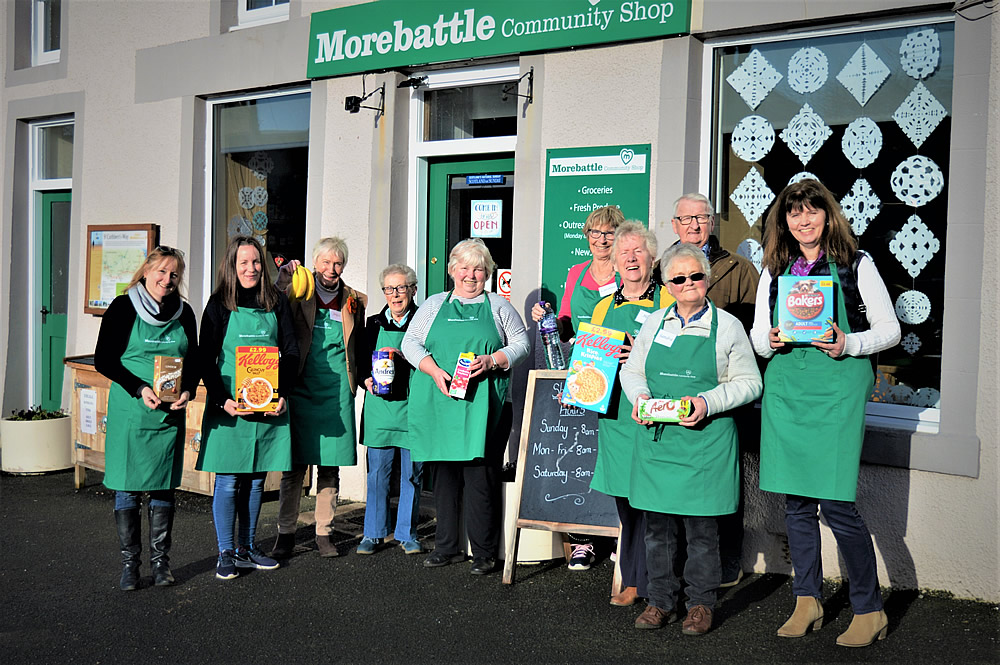 Opening Hours
Monday – Saturday: 8.00am-5.30pm
Sunday: 8.30am – 2.00pm
Thanks for looking in – we're hard at work putting a website together.
We officially opened for business on 14 January 2019.  The village shop had been facing closure but after lots of planning and with the help of a Scottish Land Fund grant and community share ownership, Morebattle Community Shop Ltd successfully purchased the business for the benefit of the Kalewater community. The shop is an integral part of our community providing a vital and essential service, a place not only to buy groceries but a place to meet and socialise.
The shop is well stocked and open 7 days a week.  We sell a wide variety of general groceries, fresh fruit and vegetables, dairy products, newspapers, confectionery, hot/chilled drinks, snacks, ice cream and lollies, pet food, household items, kindling etc etc.
We also have a newly opened community garden and seating area at the rear of the shop
A post office outreach service operates on a Monday and Thursday morning.
We are a friendly community shop presently run by a management team, Pauline Macgillivray and Roddy Murray, and lots of enthusiastic volunteers. Our Volunteers are essential to the success of the shop. We are always on the lookout for more to come and join us,  so please get in touch via email.
Our latest newsletter (July 2020) can be read here.
To celebrate Community Land Week 2019 Morebattle Community Shop was one of the community projects to be chosen this year by the Scottish Government  to take part in a small film about our wee shop. Click here to view the article.
We are a registered Community Benefit Society with a constitution written by the Plunkett Foundation.  We are a community owned business with just over 200 shareholders.  A voluntary management board oversees the running of the business.   Anyone can become a shareholder as long as you are over 16 and make a minimum investment of £25.  All members have an equal say in how the business is run regardless of the level of investment.  We operate an open share membership policy so if you would like to support our community shop then please click here to download the pledge form.
Opening hours:
Monday – Saturday: 8.00am-5.30pm
Sunday 8.30am – 2.00pm
Contact details:
01573 440250
[email protected]
Morebattle Community Shop, Main Street, Morebattle TD5 8QG
Morebattle Community Shop is a Community Benefit Society registered with the FCA no. 7800